CONSTRUCTIVE THINKING.
Tarmac combines the knowledge and expertise of two of the construction industry's most iconic brands: Tarmac, the pioneers of the modern road and Blue Circle, the company that patented Portland Cement.
For over 150 years our name has been synonymous with innovation. Inventions like porous asphalt and self-levelling concrete have helped shape the world we live in. Now we are helping to reshape it, with new solutions to overcome new challenges.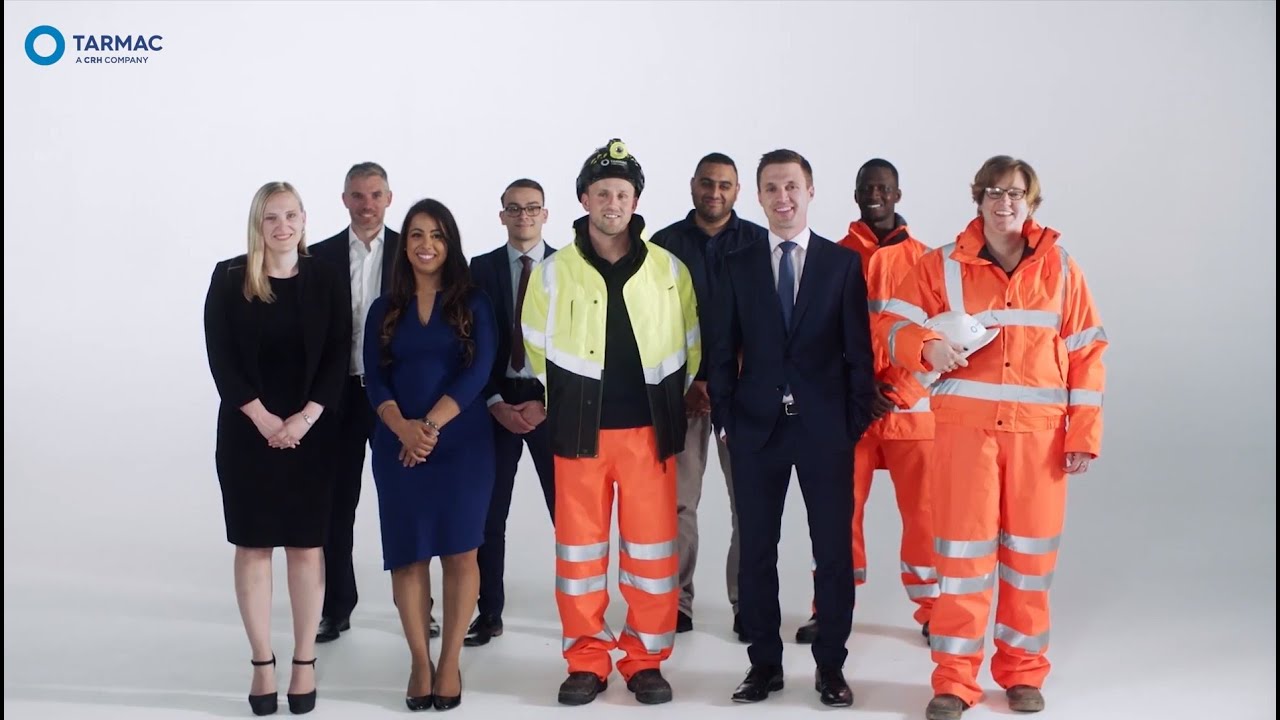 OUR VALUES
Our values are at the core of our business and underpin everything we do.
Safe
We always put safety and health first.
Committed to our customers
We commit to delivering value for our customers every day.
Passionate about success
We are passionate about our business, set ambitious targets and drive to exceed them.
Fast and flexible
We act with an appropriate balance of speed and rigour.
One team
We are all one team.
Trust and respect
We extend and earn trust and respect.
With 26 miles of tunnels connecting 40 stations, Crossrail is one of the most ambitious civil engineering projects ever undertaken in the UK. Tarmac is supplying specially graded sand and aggregates for the construction of precast concrete components as well as bespoke self-compacting concrete for shaft lining.

We have also set up a dedicated aggregate recycling plant to process the excavation waste. Soil from this facility is being shipped to Wallasea Island, South Essex to create a new 620-hectare RSPB bird reserve. The remaining material is being recycled for re-use by the construction industry.


Tarmac Contracting used over 450,000 tonnes of locally sourced blast furnace slag aggregate in the construction of this vital trunk road that links West Wales with the UK motorway network, making it one of the most sustainable roads ever built.

Using waste materials from other industries is just one way we are making our roads more sustainable. We are also a leading provider of closed-loop reconstruction solutions that allow old roads to be recycled into new ones.

Tarmac laid the runway at Heathrow in 1944 and has played an integral part in its growth ever since. As a framework supplier we have supplied over 1 million tonnes of materials for the development of the airport over the last four years, including specialist lime for soil stabilisation, and aggregates, cement and mobile batching plants for the construction of Terminal 5. In 2013 we completed the rehabilitation of the southern runway, resurfacing an area spanning 170,00m2, equivalent to 24 football pitches.

Having provided Blackpool with protection from coastal erosion
and flooding for over 100 years the town's old sea wall was badly in need of repair and much of the original structure needed to be replaced. Working closely with sea defence specialists Birse Coastal, Tarmac played an integral role in this ambitious £62 million contract.

Over the 4-year duration of the project we supplied 44,000m3 of precast concrete and 65,000m3 of ready-mix concrete. Both concretes were specifically formulated to meet the unique performance requirements of the project, and deliveries were meticulously planned to allow work to take place during limited tidal windows.

With the capacity to generate 7 per cent of Britain's electricity, Drax in Selby, North Yorkshire, is one of the biggest coal fired power stations in Europe. Thanks to the implementation of technologies such as flue gas desulphurisation, it is also one of the cleanest and most efficient.

Tarmac supply six out of the UK's eight coal fired power stations with high purity limestone (HPL) for flue gas desulphurisation. Together these plants produce 13,000 megawatts of power, enough to meet the total energy requirements of 13 million homes.

Tarmac created a new super low carbon concrete for the construction of Unity Gardens, a pioneering social housing development in Spalding, Lincolnshire. Designed by award-winning architect Jerry Harrall, all six earth-bunded homes are 'energy positive' because they are capable of generating more electricity than they use. They're also 'carbon negative' because CO2 emissions are mitigated by a combination of insulation, ventilation and renewable energy.
VIV'S STORY
I'm making sure people have access to fresh water and vital medicines.
Viv Russell, Director, Lime and Powders
Sam's story
I'm making our roads safer and more sustainable.
Sam Fergus, Logistics Performance Manager, Readymix
Karl's story
I'm managing the transformation of our roads.
Karl Cooper, Site Supervisor, Contracting
MARK'S STORY
I'm helping young people build a better future.
Mark Wood, Regional Director, Aggregates and Asphalt
Hayley's story
I'm reinventing the way we construct our infrastructure.
Hayley Cowley, Marketing and Projects Manager, Cement and Lime
Darren's story
I'm bringing new ways of working to life.
Darren Pickering, General Foreman, Contracting
Chris's story
I'm promoting pride in our local communities.
Chris Moore, General Manager, Contracting
Bevan's story
I'm opening up new markets for innovative, new products.
Bevan Browne, Packed Products Director, Building Products